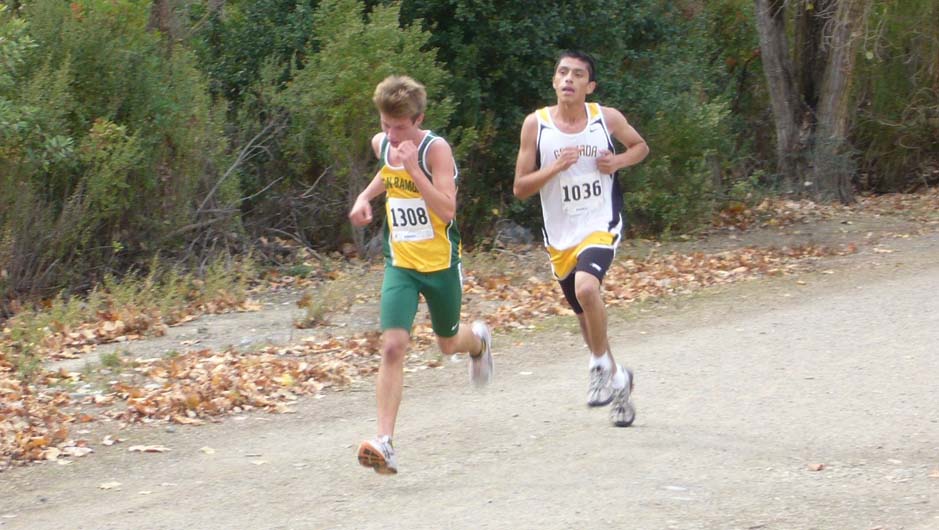 The varsity girls hang on to repeat as league champions and their fourth team title in six years. The combined teams took four All-League places, two All-League second team places, and three top 7 finishes at the junior varsity level.
The day started with the frosh-soph girls team that took 3rd place. Sophomores Julia Lee and Emily Byrnes were the top finishers. Shannon Payne was the top freshman girl in that race.
The frosh-soph boys team also took 3rd place. Sophomore James Baker was the first finisher and he was followed 2 seconds later by freshman Austin Armstrong. Freshman Jesus Bibiano and sophomore Austin Hoggatt made a major impact on the team's strong showing.
Junior varsity girls did not field a complete team but senior Laura Franklin led the way to a third place finish. Fellow juniors Natalie Cruz and Renee Dobson competed extremely well for the Matadors.
The JV boys also brought it, as Joe Burton (11) stormed his way to second place and a sub 17 minute race (16:43). Senior Kyle Rosemark also shined and earned top seven accolades. Jaxson Kovacs, Tyler Neabeack, and Taylor Futral helped the team secure 3rd place.
The varsity girls had a lot to overcome on Saturday as three of the top seven were sick this week including seniors Novell (3rd) and Girardelli (9th). Horning (7th) had foot pain and scheduling demands. However, all the summer training paid off as the team eeked out a victory over Amador's best race of the season. Gong finished in (5th) and Sarah Franklin's (12th) dominate racing as one of the best #5 runners in the state secured the low points necessary to win.
The varsity boys had a crazy good pack on Saturday as 2nd thru 5th was within 4.5 seconds of each other. Senior Grant Salk had his best racing of the year completing the course in 15:39 and earning 6th place All-League honors. If the three lead seniors all have great races on the same day at NCS Champs then anything could happen for the Matadors including a state meet birth. Granada put their top 5 in before Amador and De La Salle, so the race in two weeks at Hayward should be exciting.
All results from EBAL 2011 have been entered in the Top 25 page.