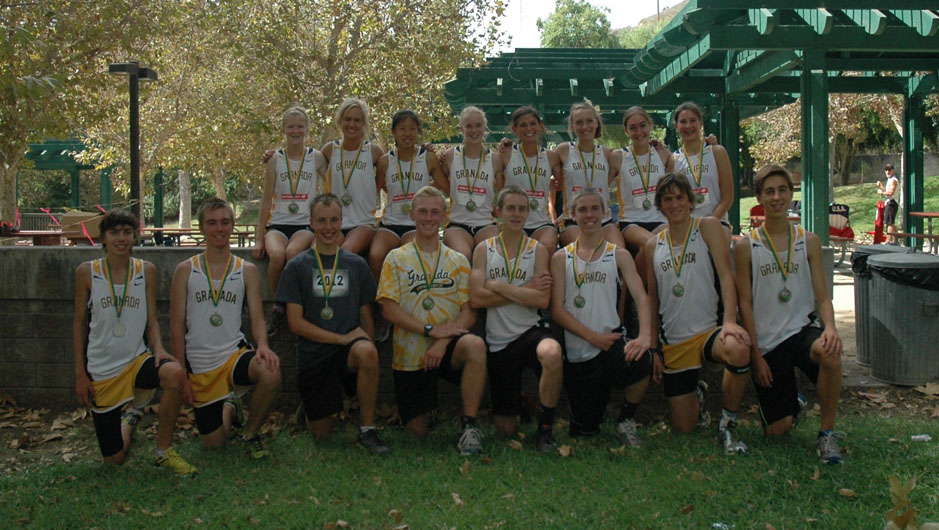 Granada took to highway 5 on Friday to take on some southern California competition. In addition to having a lot of fun, all 16 Matadors took home medals. The invitational features a unique racing format with the #1 & 2 runners all competing in a race, the #3, 4, & 5 runners in a race, and the #6, 7, and 8 runners in a race. One of the things that I like about this format is that it provides more opportunities to be at the front of the race. For example…
Sophie Hartley and Sarah Franklin demonstrated that they are one of the best 3-4 combinations in the state as they finished 1-2 respectively. But their teammates would not be out classed as freshman Taylor Lawsen won her race with sophomore Victoria Winter finishing second and new comer Enikoe Bihari finishing fifth.
But wait, there's more! In the final race of the day, first year runner Bret Rasmussen, sophomore Austin Armstrong, and freshman Leo Skellenger finished an exciting 1-2-3 as they raced and led all of the 3.1 mile course together.
The team results were that the girls won the meet with the fastest team time of the day. The boys finished in 5th place (but if the meet was scored on points they would have won).
Results are entered on the top 25 link for Brea.