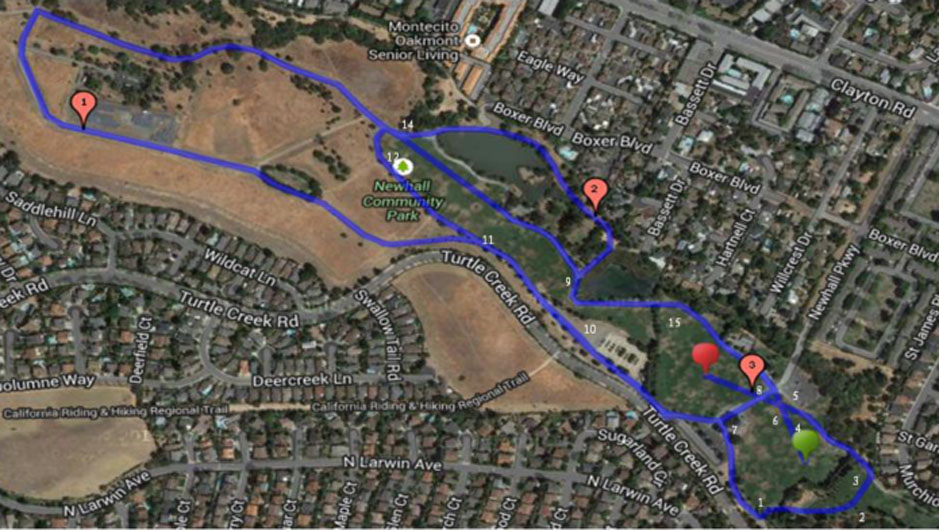 I am posting center meet details. Remember that we will need your help driving our athletes to Newhall Park in Concord on October 16…this Wednesday! We will meet in front of the school at 1:30pm. In addition, we will need help monitoring the course. Varsity parents will monitor the JV races, FS parents will monitor the varsity races, and the JV parents will monitor the FS races.
The following information is provided by Coach Pelster of DLS who is hosting the meet. Please read the information and analyze the course map.
Hi everyone,
Here's what I have from our pre-season meeting:
Setup, finish camera, finish judges, starter, announcer – DLS/Carondelet
Finish chute – SRV/Livermore
Entries, bibs, etc. – Monte Vista
Course monitors – Granada/Foothill/California/Amador Valley/Monte Vista
I have a map with course monitor positions on it attached to this message. I suggest that each of the five teams supplying course monitors provide three monitors (at least one per station at all times). In no particular order, let's have Foothill take spots 1-3 on the map, Amador Valley spots 4-6, Monte Vista 7-9, Granada 10-12, California 14-15. (I think there's supposed to be a #13 on the map, but maybe the superstitious among us will be pleased there isn't one.) Each school can choose to staff those locations as it sees fit. I will email instructions for each station a little later. We will have a meeting for course monitors at 3:15. The course will be almost identical to the one we use for the Nike Invitational. We will most likely move the start and the finish over to the trail adjacent to the soccer fields.
Parking will be exceptionally tight, as always, around Newhall Park. I believe we have made arrangements for all buses to park at Cal State East Bay's parking lot on the other side of Ygnacio Valley Road. All parent and student drivers will be expected to follow parking laws in the area around the park. If the curb is red or there's a fire hydrant and a car is parked there, the vehicle may be ticketed (and towed for all I know). The biggest factor in our ability to use the park in the future will be the number of complaints we get from neighbors. The city doesn't mind if we use the park as long as the neighbors don't howl about illegal parking and disrespectful visitors. If we can all make sure our families can get that message, it would be helpful.
Let me know if there's something I've missed. Looking forward to hosting our first EBAL meet!
Schedule of races:
3:30 – F/S girls
4:00 – F/S boys
4:25 – JV girls
4:55 – JV boys
5:20 – Varsity girls
5:50 – Varsity boys
John Pelster
De La Salle High School
English Department
Head Cross Country Coach